Hello, tomorrow I have the pleasure of teaching a scrapbooking class in Boston. I met my friend Tamika at work. I'll never forget the day I entered her office and noticed a card on her desk. The card was hand-made and the paper line was Basic Grey, one of my favorites.
I said is that paper from Basic Grey? And Tamika replied yes. The rest was history... we started talking from card-making to scrapbooking to paper lines to machines to LOs to blogs to design teams and so on.
When you have a passion for crafting you just love when you meet others who share this passion. And you want to share this passion with new people too.
For the class, I chose to use the Rustic Fundamental paper line. I added in the new Sea-glass line to give it a soft punch of color. Eight crafters will be joining us tomorrow with varying degrees of skill. Thus I kept the first LO on the simple side.
Popping up the words OUR HOME and inking all edges highlights the elements.
For the second LO, I cut out some shapes using the Cricut Art Philosophy Cartridge, one of which I dry embossed.
I also used CTMH's new 4X6 vertical Memory Protectors for pocket scrapbooking. The Memory Protectors not only let you add more pictures, but also let you add more space for creativity/design.
You may notice those gold accents with red coloring. I used the CTMH Picture my Life Cards and inked them in Ruby and Cranberry to bring out the red in her outfit.
I still have extra paper left over from this kit and will quickly make up some Fall cards to teach as well. I hope the crafters enjoy learning some new techniques tomorrow!
If you are interested in purchasing this kit, then please let me know. I will be teaching this class at the November 5th crop in Norwell as well.
Thanks, Maureen
Supplies: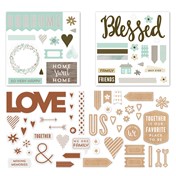 All Together Compliments
Rustic Fundamentals

Sea Glass Cardstock